TOURIST INFO OFFICE
8253 Révfülöp, Villa Filip tér 8/b
Telefon: 06-87/463-194
E-mail: touristinfo@revfulop.hu
Eitner Csongor
Open: Monday - Friday 9.00 - 17.00; Saturday 10.00 - 13.00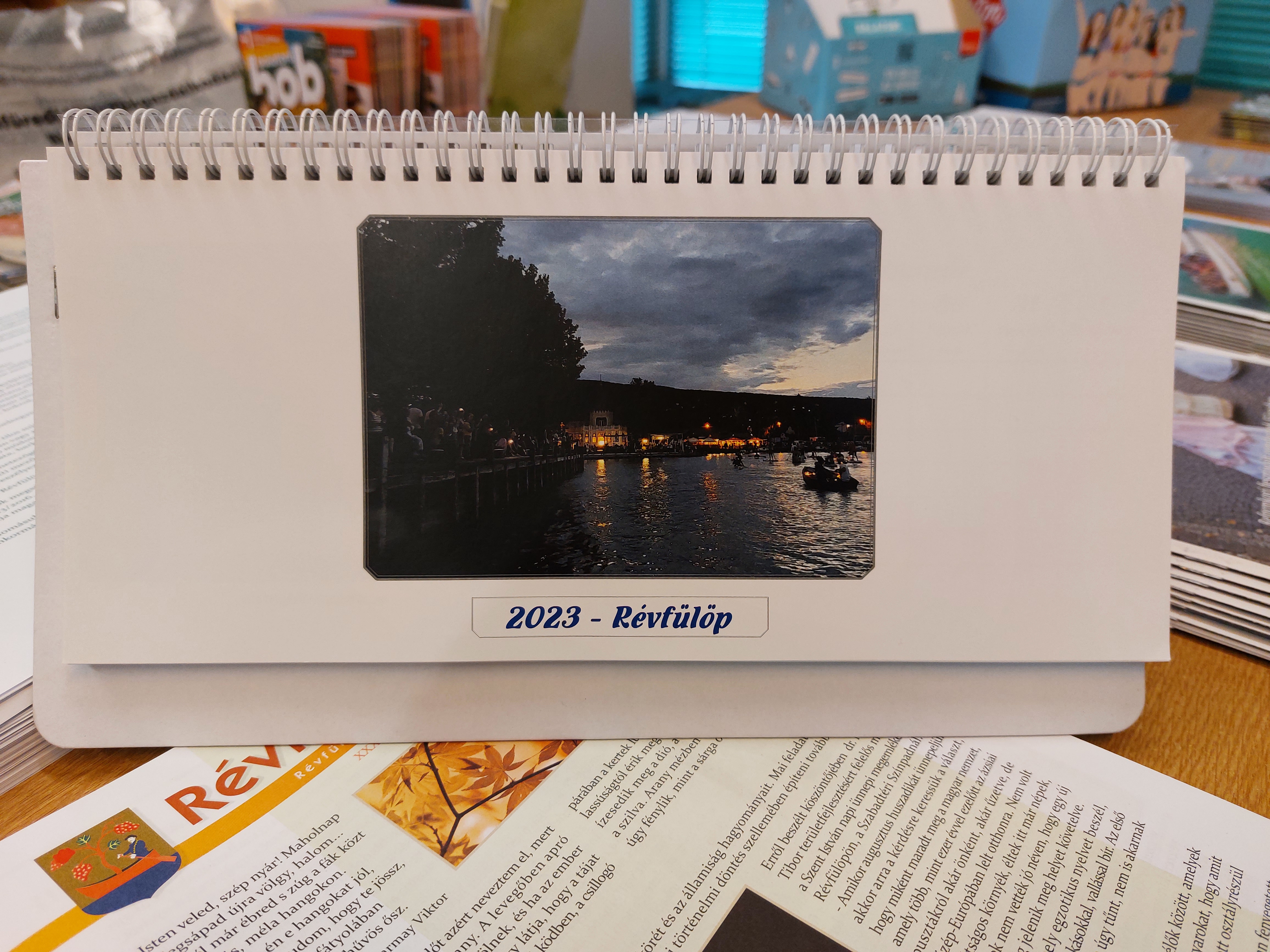 Our activities
Our primary task is to provide information for visitors and people inquiring over the phone, to supply them with local and nationwide brochures and other publications and to give information about programmes, sights, dining and entertainment opportunities and about timetables.

Information is provided in Hungarian, German, English in our office.

We have continuous and good contacts with local tourism service providers and entrepreneurs.

As a complementary activity, in a competition-neutral manner we also deal with selling books, maps, postcards, CD-s, video cassettes etc.
RÉVFÜLÖP CARD ON BEHALF OF YOU!

Information about using the card
Claiming the reductions please show this card! "Révfülöp Card" must not be transferred to other person and must be given back to the owner of the accommodation on the day before departure! (On the day of departure you are not entitled to the benefits provided by the card.)

About the loss or the damage of the card the owner of the accommodation must be informed without delay who will report it to the self-government with the help of card info.
Dear Guest!

Showing "Révfülöp Card" YOU can:
Sie können mit der Révfülöp Karte:

Discount on the "Császtai" or "Szigeti" beach once a day.

Ask for the Révfülöp card at your host which entitle you to free entrance to beaches and preferential services.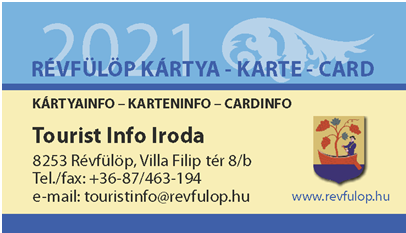 Dear Guest!

We hope you travel home with pleasant experiences about our wonderful holiday resort, Révfülöp, where we will wait for you and your family, friends next year as well.
SERVICES
10% discount

Anita Hairdresser
Csárda str 1/a
Maniküre/Pediküre/Kunstnagel
Tel.: +36-30/8473790
E-mail: anitafodraszat@gmail.com

Edit Cosmetics, Solarium, Massage (with 18 years of experience), Manicure, wrinkle-filling, Mesotherapie without a needle
Csárda str 1/a Tel.: +36/30/376 8989
E-mail: pfluger.ati@gmail.com
Honlap: www.editszepsegstudio.hu

Hawai Ice and noodles
Szigeti beach Tel:+36/20/924 0982 Fax: 87/322 645
E-mail: loksipark@gmail.com

Mákvirág Restaurant
Petőfi str 4. Tel.: +36-30/217 5478
E-mail: makviragbor@hotmail.com
Web: www.kali.hu/kal-vin

Pizza, Steak, saltbox
Szigeti beach Tel.: +36 20 2211 940

Szegi Sport- Bicycle and sailing boat parts
Csárda str 1. Tel.: +36-30/946 0531
Alle Fahrrad - Ersatz - und Ausrüstungsteile

Tóth Restaurant
Kacsajtosi str 16.
Tel.:87/464 368 +36/30 9460344
E-mail: tothvendeglo@tothvendeglo.hu
Web: www.tothvendeglo.hu